Ranting and update.
Okay, tomorrow my mother's going in for full knee replacement surgery. I'm worried out of my mind because when she returns she'll be unable to walk until about two months after. She has to pay for an at home physical therapist after staying int he hospital for 3-4 days, to help her and we're moving her to sleep downstairs since she can't use the stairs for a long while. Again, this has me worried to the point of an ulcer.
Now, I'm still doing the Homestuck troll horns. I have been and I've been working on getting my shipments out ASAP but with mom being hurt, things will go slow for me since I have to take over house maintenance. My 75 year old father can't do it all himself, either.
I want to keep doing the Homestuck horns for Hussie. I really REALLY do. I NEED to keep doing them to pay for everything like costs of materials, medical bills on my part due to my spinal injuries. Please remember, Hussie gets around 45% of every set of horns we make. I've given up on trying to find a car since my insurance company won't give us more for the asshole who hit us and my credit is shot to all hell. The predicament I find myself in though, is that Hussie will not acknowledge me as his merchant. These are just a month's worth of medication I'm on.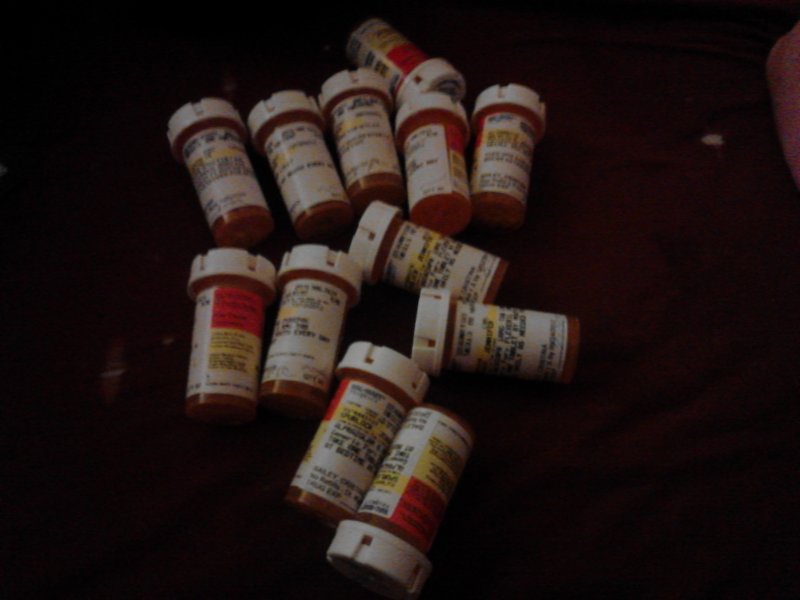 I've continuously had emails and people saying that what I've been doing is illegal and against Hussie's copyright despite having his okay to do so. I've emailed Rachel and Hussie themselves, about 5 times [Hussie once because, well, it's Hussie and he's busy] but after waiting since Aug. I still have not heard a word from them. It was my ONE request and wish from them to acknowledge my ..well existence. I'm already suffering depression and having emails and notes telling me to get raped, kill myself, get in another car crash, stop or you'll be sued, get paralyzed and so on well…it had led me to attempting suicide once last year. IT IS NEVER. EVER. OKAY to tell someone those things. Ever.
Yet again, just to be acknowledged by Hussie as his merchant until he has the mass produced horns ready would just…I don't know. Solve things? Help? I don't know… I've just felt recently, that I've been thrown to the wolves.
Did I not do a good job?  Did I do something wrong? Is that why they're not replying?  Is it too stupid to wish to make just like, 30% of what they did with the Kickstarter to help my family and get the spinal surgery I need? I'm trying not to be hard on myself but I'm just generally lost and stupid.
I'll try and get the orders out as quickly as I can but again, I'll be helping around with mama and foregoing my physical therapy for a while.